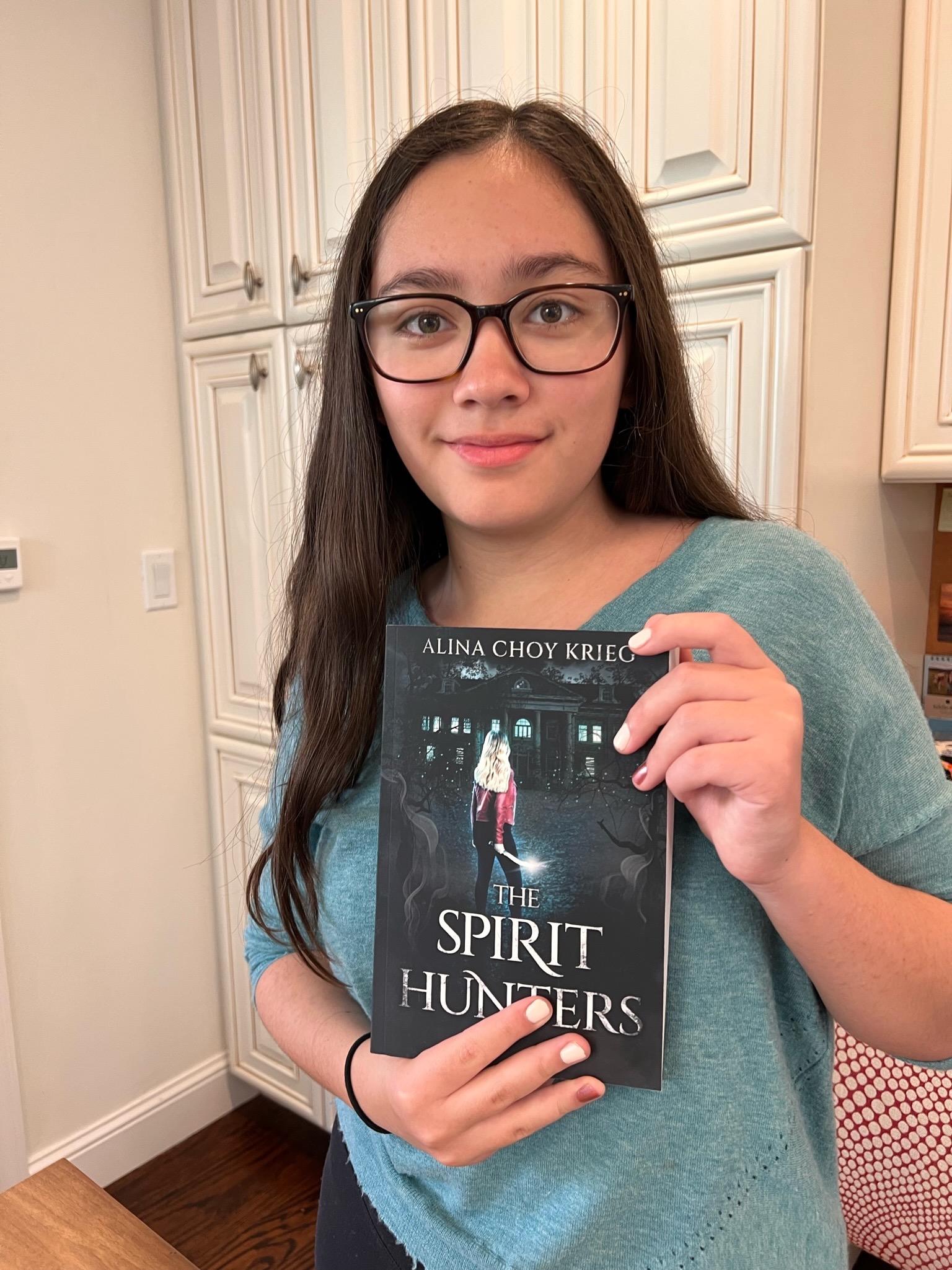 Writing THE SPIRIT HUNTERS has been one very emotional rollercoaster. I started when I was eleven, a girl with a colorful universe stuck in her head. Now I am fourteen, and looking back, I think writing this novel has helped me learn a lot about myself. While writing my first draft (which was 150,000 words before all the edits), I was reminded of my obsession with words. In most ways it has helped me, with my writing and reading, and because I love both saying and hearing words, I think listening and analyzing peoples' words all my life has led to better empathy and creativity. When I speak, not only do I do it in English, Chinese and German, I also appear more mature to the people around me. Plenty of people think I have the mental age of eighteen or older, and I have been even offered champagne several times.
Now I live in the Upworld with my family. When I'm not in the uphill battle that's a teenager's life, you can find me reading a book and eating something spicy. 
After an impulsive trip to the Smith House, a haunted place full of angry spirits, Brianna Davis's world flips on its head. Possessed by demons, her best friend is now doomed to die, and Brianna is desperate to save her. Despite her best efforts, Brianna's friend dies, leaving her in a tornado of grief and regret. While at her most vulnerable, she meets Isabel and Darek who offer her an opportunity to gain answers to questions that are still haunting her.
Darek and Isabel lead Brianna to the world of 'Spirit Hunters', people with angelic genetics, whose skills allow them to trap evil spirits. Though fascinated with this new Leaf world, she is shocked to learn she gave up her right to leave the moment she entered it. Why? Brianna is a born spirit hunter. As she struggles to adjust to her new life, she stumbles across an evil that is brewing right in the middle of the spirit world. 
As she's drawn further and further into the fight, she realizes this evil may tie directly back to her loss at the Smith house. Brianna is given a choice, to save her friend, or to save her new world. Brianna chooses to save her new home, and while it saves the lives of many, her own life has been put in the hands of evil. She begins to see that her worst fear, being possessed by the demons at the Smith House, is becoming her reality. No assistance from her friends is possible, so Brianna must find a way to save herself, and the world.